The Aegean archipelago: a natural laboratory of evolution, ecology and civilisations
Journal of Biological Research-Thessaloniki
2017
24:4
Received: 20 September 2016
Accepted: 28 January 2017
Published: 21 February 2017
Abstract
The Aegean archipelago, comprising numerous islands and islets with great heterogeneity in topographic, geological, historical and environmental properties, offers an ideal natural laboratory for ecological and evolutionary research, and has been the stage for a very long interaction between human civilizations and local ecosystems. This work presents insights that have been gained from past and current relevant research in the area, highlighting also the importance of the Aegean archipelago as a useful model to address many major questions in biogeography, ecology and evolutionary processes. Among the most interesting findings from such studies concern the role of habitat heterogeneity as the most important determinant of species richness, the development of a new model (Choros) for the species–area–habitats relationship, the mechanistic aspects of the Small Island Effect, the very high rates of species turnover, the lack of a role for interspecific competition in shaping species co-occurrence patterns in most cases, the importance of non adaptive radiation in diversification of several taxa, the insights into the relative roles of vicariance and dispersal in speciation, the understanding of the interplay between human presence and the establishment of exotic species and extinction of indigenous biotas. Concluding, the Aegean archipelago is an ideal stage for research in evolution, ecology and biogeography, and has the potential to become a model study area at a global level, especially for land-bridge, continental islands.
Keywords
Island biogeography
Aegean
Insular communities
Adaptive radiations
Non adaptive radiations
Habitat heterogeneity
Background
Almost the entirety of biotic systems on Earth are organized in partially or more strictly isolated entities, i.e. islands, such as marine water bodies surrounded by water of different physicochemical properties, relatively homogeneous habitats surrounded by a broader and different matrix, individual animals for parasites or symbionts, geographic islands, lakes, caves, mountaintops, temporary pools, etc. Therefore, one can perceive the biosphere as consisting of a vast series of variably interconnected islands. This omnipresence of islands in our world, with consequences also in other realms of human endeavors such as art and psychology, is one of the major reasons for the prevalence of island ecology in the development of modern ecological theories. The other is the relative simplicity of biota on geographic islands coupled with their distinct boundaries that facilitate description and analysis of local dynamics.
The Equilibrium Theory of Island Biogeography (ETIB) of MacArthur and Wilson [1, 2] has been the seminal and paradigm-setting work that initiated a vast number of small to large scale research lines aiming to test, refute, correct, add to and/or build on the original theory. A recent review [3] has highlighted major advances in ecological and biogeographical theory made possible by developments in what is generally termed as 'island biogeography theory' or more generally 'island theory'. In addition, the importance of islands for the development of evolutionary theory can be overemphasized, given the role that islands played in Darwin's and Wallace's theories. ETIB has been considered as mostly devoid of evolutionary processes, since the main predictors of species richness it encompasses are immigration and extinction rates regarded from an ecological perspective (e.g. extinction refers to loss from an island, i.e. extirpation). Speciation, even though explicitly mentioned by MacArthur and Wilson, has not been part of the mathematical expression of the theory and has been peripherally considered in the first decades after the theory's publication. More recent developments, mainly the general dynamic model (GDM) of oceanic island biogeography [4], have attempted to also incorporate speciation, via island's geological age, but we still lack a mathematically coherent general island theory, with speciation incorporated. Nevertheless, the similarities of ETIB and evolutionary models of speciation are long known and, in fact, they have informed each other to a certain extent (see, for example, [5] regarding the effects of immigration history on evolutionary dynamics). In effect, the ETIB can be used to make coarse estimates of speciation probabilities in an insular system, given that high immigration and extinction rates would impede speciation whereas increased isolation coupled with small turnover rates (i.e., large island size) would be expected to promote it. Therefore, the study of island biogeography and ecology is tightly connected to evolutionary processes in space and time.
Within the framework of island theory, islands are broadly classified in three main types, based on their origins and history of formation [6]: oceanic (emerging from sea, never connected with continental masses, most of volcanic origin, e.g. Hawaii, Canary, Galápagos), continental shelf (formed mainly by eustatic changes of sea level, connected with continental masses during glacial periods in the Pleistocene—e.g. Britain, Borneo, New Guinea), and continental fragments (remnants of very old continental masses that were subsequently fragmented, not connected to continental masses since then—e.g. Seychelles, New Zealand, Madagascar). In addition to these three types referring to actual islands, authors often refer to habitat islands which are either fragments of previously larger habitat types (e.g., forest fragments) or uniform habitats surrounded by very different matrices (e.g., mountaintops). Island models are actually applied to all systems consisting of isolated or semi-isolated components, such as lakes, river systems, etc.
Amongst these island types, oceanic islands have gained a central role to the development of theories and their evaluation since the time of Darwin and Wallace. One of the first lessons taught to us by Wallace, decades before MacArthur and Wilson, is that comparisons among different biogeographic regions and archipelagos can provide increased understanding of the processes regulating biodiversity across time and space (see [7]). For the most recent advancements in oceanic island biogeography, see [4, 8–11]. However, oceanic islands are not the majority of true geographic islands. Considering islands with areas larger than 1 km2, they represent a 27% of the total number [12]; although an accurate estimation of all the geographical islands of the world is not available, the oceanic ones represent an even smaller fraction of islands globally (using the crude estimation of [13], which is ca. 1 million islands). The vast number of islands on Earth is of the continental shelf type, and any comprehensive theory should also describe patterns and processes of their biota. Despite various efforts, island theory about continental islands is far less mature compared to the oceanic islands theory.
A typical archipelago of continental islands is the Aegean Sea Archipelago (Fig.
1
). Some 7500 islands and islets occur at a variety of isolation levels and topographic features establishing the Aegean Sea amongst the archipelagos with the highest number of islands. The archipelago stands in the center of the conjunction of three continents, namely Europe, Asia, and Africa [
14
]. Despite the continental origin of the archipelago, quite a small number of islands are of volcanic origin in the Aegean Sea, such as Thira, Nisyros, Gyali etc., as well as a large continental fragment, Crete, which has been isolated for the last c. 6 million years [
15
]. The Aegean Sea has played an instrumental role to the development of modern island biogeography theory and in fact the development of ETIB itself. In 1964, George E. Watson from Yale University submitted his thesis on the 'Ecology and evolution of passerine bird on the islands of the Aegean Sea' [
16
]. One of Watson's main conclusions was that in the Aegean islands, habitat diversity is the prime driver of species richness observed. As Rosenzweig [
17
: p. 217] notes in his seminal book '
His work deeply influenced MacArthur, who I know saw a copy before 1965. (He told then how important it was)
'. The Aegean archipelago with other major continental archipelagos of the world such as the Philippines, provide exceptional opportunities for the further development of island theory, especially through the disentangling of under-explored or in need of revisiting theories and patterns. Recently, a list of such theories and patterns has been presented [
3
]; we herein discuss these under-explored or in need of revisiting ideas under the light of recent developments of the Aegean Sea islands. We also present in short the geological dynamics of the archipelago and the history of humans in the region.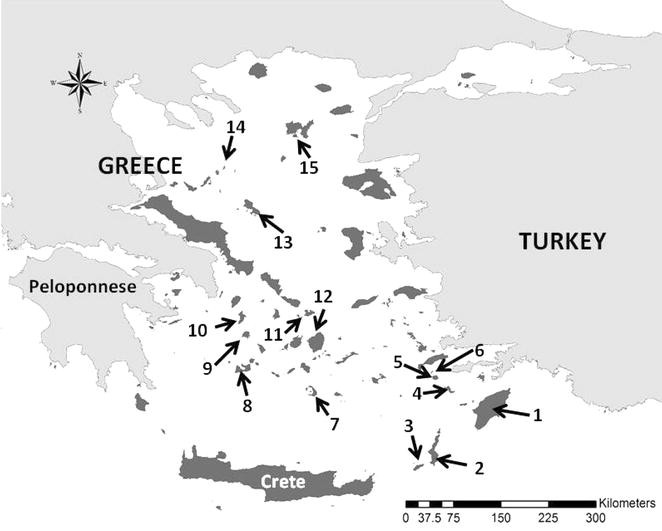 Conclusions
Overall, studies on biota of the Aegean islands have yielded useful insights into several crucial questions in biogeography, ecology and evolutionary biology. Here is a brief summary of the most important such findings:
a.

Habitat heterogeneity is the most important determinant of species richness, with a key role of major habitats;

b.

A new model (Choros) for the species–area–habitats relationship has been developed;

c.

Very high species turnover rates have been shown at a temporal scale of a few decades, but community level properties remain stable within the same time period;

d.

Community nestedness is mostly affected by palaeogeographic/historic factors, especially for taxa with low mobility; in contrast, communities of mobile taxa, especially birds, are mainly affected by current geographic and climatic factors;

e.

Interspecific competition does not play any role in shaping species co-occurrence patterns in the vast majority of cases;

f.

Non adaptive radiation is an important process in driving diversification even in very short time scales, manifested in parallel with deterministic processes;

g.

The relative roles of vicariance and dispersal in evolution should be evaluated at a case-by-case basis, with no general rule being possible.
Nevertheless, up to now, ecological and evolutionary studies in the Aegean Sea are still limited and scarce and have been restricted to a relatively small number of taxa. We lack information on many insect and other species-rich invertebrate groups (e.g., Nematoda), but even the potential of the better known taxa has not been exploited in full.
The Aegean archipelago is an ideal stage for research in evolution, ecology and biogeography, and has the potential to become a model study area at a global level, especially for land-bridge, continental islands. Of critical importance is the understanding of the interplay between human presence, establishment of exotic species and extinction of indigenous biotas. The Aegean Sea, being one of the most touristic destinations globally, is continuously affected by human activities thus the monitoring of the changes caused can inform and guide global policies. The topographic, palaeogeographic, climatic and ecological properties of the archipelago, combined with the very long presence of humans and the excessive number of islands, provide a unique combination for biogeographers and evolutionary ecologists to develop and test theories and models of biodiversity's establishment and regulation.
Declarations
Authors' contributions
Both authors contributed to the development and writing of the manuscript. Both authors read and approved the final manuscript.
Acknowledgements
Not applicable.
Competing interests
The authors declare that they have no competing interests.
Availability of data and materials
Data sharing not applicable to this article as no datasets were generated or analysed during the current study.
Declaration
This article has been published as part of the thematic series "Evolutionary Biology" of Journal of Biological Research-Thessaloniki with guest editors Dr. Nikolaos Poulakakis (University of Crete) and Prof. Antonis Rokas (Vanderbilt University).
Funding
No special funding has been given for this publication, except for the regular general purpose funding by our institutions.
Open AccessThis article is distributed under the terms of the Creative Commons Attribution 4.0 International License (http://creativecommons.org/licenses/by/4.0/), which permits unrestricted use, distribution, and reproduction in any medium, provided you give appropriate credit to the original author(s) and the source, provide a link to the Creative Commons license, and indicate if changes were made. The Creative Commons Public Domain Dedication waiver (http://creativecommons.org/publicdomain/zero/1.0/) applies to the data made available in this article, unless otherwise stated.
Authors' Affiliations
(1)
Department of Biological Sciences, University of Cyprus, Nicosia, Cyprus
(2)
Department of Ecology and Taxonomy, Faculty of Biology, National and Kapodistrian University, Athens, Greece