Benthic molluscan macrofauna structure in heavily trawled sediments (Thermaikos Gulf, North Aegean Sea): spatiotemporal patterns
Journal of Biological Research-Thessaloniki
2014
21:10
Received: 2 July 2013
Accepted: 5 March 2014
Published: 10 June 2014
Abstract
Background
Spatio-temporal patterns on benthic molluscan macrofauna structure and function (feeding guilds) were investigated in a commercial fishing ground in Thermaikos Gulf (N Aegean Sea). Fishery management measures in this area include a trawling period of 8 months per year (October to May). Macrofauna samples were collected before and after 30 and 120 days of the commencement of the trawling period (temporal axis) along a southward transect (spatial axis) and down through the sediment profile (vertical axis).
Results
Main results revealed no recognizable changes in community diversity and structure at temporal scales. This finding can probably be attributed to the fact that the examined communities are subjected to continuous disturbances deriving from multiple natural and anthropogenic stressors acting simultaneously in Thermaikos Gulf. Molluscan assemblages were already stressed before the commencement of the trawling period, indicating that the time period in which bottom trawling is prohibited is not sufficient for the recovery of benthic communities. Significant shifts in the trophic structure of molluscan assemblages were also detected. The direct mortality of herbivorous species and the loss of filter feeding organisms may be attributed to the passage of the fishing gear and to sediment re-suspension, respectively. Trawling disturbance may have created the observed vertical patterns of the community structure since hauling induces profound changes in the geochemical profile of the sediment.
Conclusions
Our findings sustained the notion that bottom trawling, alongside with other types of human induced stressors, can have considerable effects on the structure and function of the benthic domain. Therefore, our results highlighted the need of an Ecosystem Based Fishery Management (EBFM) perspective in Thermaikos Gulf to ensure both fisheries and ecosystem sustainability.
Keywords
Bottom trawlingSediment profileThermaikos gulfMacrofauna
Background
In the last decades, there has been growing evidence of the wide effects of bottom trawling on marine ecosystems [1–4]. Nowadays, it is well known that physical disturbance caused by bottom trawling can be classified as one of the most important sources of human induced disturbance to soft-sediment benthic communities and habitats [5–7]. Both experimental and field studies have shown that bottom trawling modifies seabed morphology and complexity, changes the community structure of the resident biota and affects benthic production and functionality [1, 6, 8–10]. These alterations of the benthic ecosystem could in return induce secondary impacts on many commercially exploited fish species affecting total production [4].
Macrofauna is frequently used to detect bottom trawling disturbance because it is relatively easy to sample and process, is directly affected by the passage of the fishing gear as species are directly killed or damaged, and it also provides information about habitat structure [2]. In this respect, bottom trawling effects are known to be harsher for species with hard shells, larger body sizes and slow life histories rather than for flexible species with smaller body sizes ([6, 11, 12] but also see [13]). Therefore, it is reasonable to expect that larger bivalves will suffer higher mortality rates from trawling while smaller bivalves, gastropods and polychaetes will present lower mortality since lighter organisms are pushed aside by the pressure wave in front of the fishing gear [14]. As a result, in intensively trawled sediments small infaunal species are expected to proliferate, since they usually exhibit higher resilience after disturbance events, whereas larger epifaunal organisms are expected to be absent [14, 15].
While many field studies on benthic fauna response to bottom trawling have been conducted in northern European, little is known for Eastern Mediterranean waters [16, 17] despite the fact that it is characterized by unique attributes [18, 19], rich benthic biota [20], intense fishing pressure and overfished stocks [21, 22]. Thermaikos Gulf (N. Aegean Sea, Eastern Mediterranean) is characterized by increased productivity, and by an extended self (180 km long × 55 km wide) with smooth bathymetry, which is mainly comprised of soft sediments [23] and references therein]. In this respect, it is an ideal area for bottom trawling, constituting one of the most important fishing grounds in Greek waters [24]. According to Greek law (Presidential Decree 189/1978) the trawling season spans from October to the end of May (8 months per year), whereas trawling activity is permanently banned in the inner part of Thermaikos Gulf (Thessaloniki Bay) in an effort to protect the fish stocks.
The present study aims to address the structure and function (feeding guilds) of macrobenthic molluscan assemblages in a heavily trawled fishing ground of the Eastern Mediterranean, Thermaikos Gulf (N Aegean Sea), along spatiotemporal axes, down through the sediment profiles.
Conclusions
Our findings sustained the notion that bottom trawling, alongside with other types of human induced stressors, can have considerable effects on the structure and function of the benthic domain (Table 
5
). Therefore, fishery management in Thermaikos Gulf should be redirected from the traditional single species management which is currently active in the area to an ecosystem based fishery management (EBFM) strategy [
40
] to sustain the health and function of the ecosystem as well as the fishing yields that it supports.
Table 5
Summary table of molluscan macrofauna response to environmental variation and bottom trawling activity
Response

Environmental variation

Trawling impact

Faunal diversity

Spatial patchiness

No direct effects

Productivity gradient

Community structure

Latitudinal gradient

No direct effects

Functional attributes

Natural and anthropogenic stressors

Dominance of predators

Comparable microphytobenthic biomass

Loss of epibenthic herbivores

Trawling induced sediment resuspension

Loss of filter feeders

Faunal structure along sediment profiles

Dissolved oxygen gradient

Alterations in structure

Faunal functionality along sediment profiles

Dissolved oxygen gradient

Presence of many functional groups deeper in the sediment
Methods
Study area and sampling design
Macrobenthic molluscan communities were examined at three sampling stations (Figure 
4
) placed across a NW-SW productivity gradient in Thermaikos Gulf, N Aegean Sea [
33
]. Sampling stations were located across the 50 m depth isobar since trawling activity is mostly concentrated around that depth. Sampling stations were characterized by silty sediments with mean grain size of 0.012-0.024 mm [
33
]. The bottom topography of Thermaikos Gulf can be considered as smooth, receiving a significant annual freshwater outflow of 10.2 × 10
6
 m
3
from three major rivers (Aliakmon, Axios and Pinios) [
17
]. Trawling season, in the study area, opens at the beginning of October and ends in May, while trawl fishing is prohibited during the rest of the year. Sampling was carried out at three periods. The first one took place just before the opening of the trawling season (September 2001 - pre-trawling period, dry calm), while the second and third corresponded to one (October 2001 - initiation of trawling, pre-storming low river input period) and four (January 2002 - integrated stormy, high river input and trawling period) months after the initiation of trawling, respectively. This design was based on the before-after treatment approach to detect possible trawling impacts on molluscan communities [
41
]. Three replicated samples were collected at each sampling station by means of a 0.25 m
2
USNEL boxcorer that is designed for undisturbed samples while it penetrates to a depth of 20–30 cm into the sediment [see [
17
] for further details]. Geochemical and physical characteristics of the sampled sediments were described by Pusceddu
et al
. [
33
] and Lampadariou
et al
. [
17
].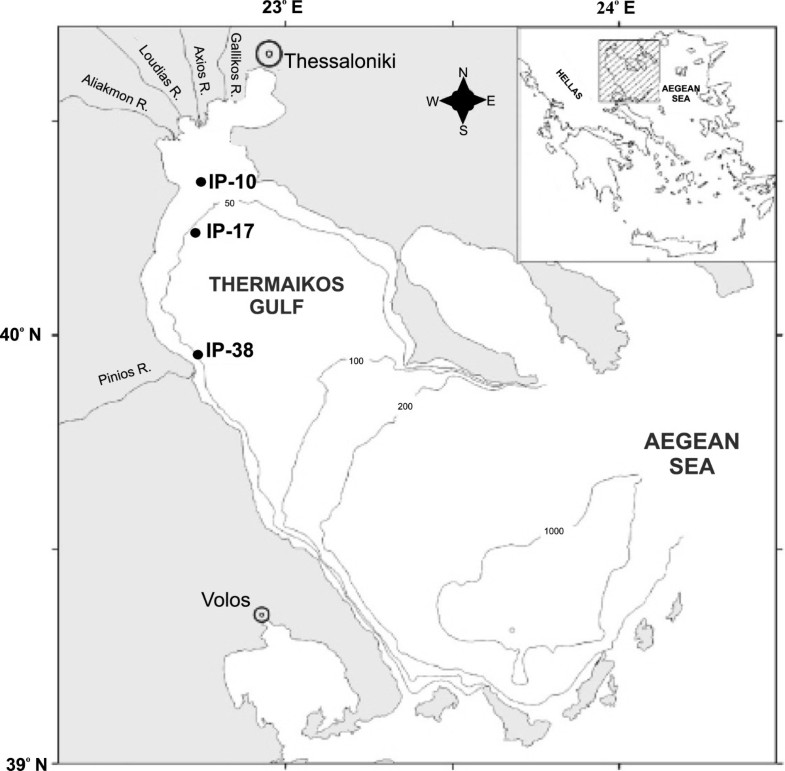 Treatment of samples
The collected samples were sliced into 3 sections. The first section included the surface sediment (0–5 cm depth), the second the layer that follows just below (5–10 cm) and the remaining the deeper part of the sediment cores (10–20 cm). All samples were washed through 0.5 mm sieve, fixed in 10% formalin and kept separately with the addition of the vital stain Rose Bengal. Macrofauna was sorted into major taxonomic groups and all living Mollusca were identified to species level, counted and weighed.
Data analyses
Data analyses involved the measurement of several biological descriptors such as species number, species abundance and the following diversity indices: Ν1 Hill's index and Hill's Evenness N21 (N2/N1) [42]. Classification of molluscs according to their feeding guilds was based on relative literature ([43, 44] and references therein) and online data bases such as the European Register of Marine Species (ERMS) [45] and the Marine Life Information Network (MARLIN) [46] (Additional file 1). Hierarchical two-way ANOVA was used to detect temporal (i.e. sampling periods, 3-level factor) and spatial (3-level factor, nested in sampling periods) variation of biological descriptors values in the study area. Hierarchical three-way ANOVA was also used to examine the variation of biological descriptors values along the sediment profiles in spatial and temporal scale. The model included the effects of the following factors: sediment profile (3 levels: 0–5 cm, 5–10 cm and 10–20 cm down through the sediment), sampling station (spatial effect) nested in sediment profile and sampling period (spatial effect) nested in sampling station and sediment profile (temporal effect). Model design was based on the recommendations of Ysebaert & Herman [47] and references therein. Prior to analysis, data were properly transformed [i.e. log(1 + x)] when normality and heterogeneity of variance were not met. Significant differences of the allocation of species into feeding guilds between sampling stations and periods were detected with the Mann–Whitney test procedure. Non metric MDS and Cluster analysis were applied for the ordination and classification of samples into groups of similar community structure, considering, as well, sediment depth profile. A two-way PERMANOVA [48] was employed to detect significant differences in benthic community structure with respect to the temporal and spatial variation components under the same model design of two-way ANOVA. A three-way PERMANOVA was applied to detect significant differences of community structure along the successive sediment layers in time (temporal effect) and space (spatial effect), under the same model design of three-way ANOVA. Multivariate analyses were based on Bray-Curtis similarity index derived by the transformed (fourth root option) species abundance data.
All calculations were performed with the use of PRIMER v6 software package [49] and SPSS v20 [50].
Declarations
Acknowledgements
The authors would like to thank the officers and crew of the R/V's AEGAEO and PHILIA for their assistance during field work. Thanks are also extended to D. Podaras, T. Polychronaki, N. Lampadariou, K. Christodoulou, F. Pantazoglou and P. Polymenakou for helping in all sampling procedures. The study was supported by the Commission of the European Communities (DG-XII) through the INTERPOL project (Impact of Natural and Trawling Events on Resuspension, Dispersion and Fate of Pollutants, Project Number: EVK3-2000-00023) as well as the Greek Ministry of Development (General Secretariat for Research and Technology). We would also like to thank the anonymous reviewers and the assigned editor for their valuable suggestions that improved the manuscript.
Authors' Affiliations
(1)
Department of Marine Sciences, Faculty of Environment, University of the Aegean, Mytilene Lesvos Island, Greece
(2)
Department of Maritime Studies, University of Piraeus, Piraeus, Greece
(3)
National Marine Park of Zakynthos, Zakynthos Island
Copyright
© Dimitriadis et al.; licensee BioMed Central Ltd. 2014
This article is published under license to BioMed Central Ltd. This is an Open Access article distributed under the terms of the Creative Commons Attribution License (http://creativecommons.org/licenses/by/4.0), which permits unrestricted use, distribution, and reproduction in any medium, provided the original work is properly credited. The Creative Commons Public Domain Dedication waiver (http://creativecommons.org/publicdomain/zero/1.0/) applies to the data made available in this article, unless otherwise stated.